Smith Rock State Park
Smith Rock State Park,
OR
+
Day-Use/Parking Pass Required:
State Park Fee ($5.00)
Trip Report
Pros:
Extensive trail system. World-class rock climbing. Campground. Mtn. Views.
Cons:
Heat and sun exposure mid-day during summer months.
Located in heart central Oregon's high desert, with as many as 1,800 climbing routes, Smith Rock State Park is one of the country's great climbing meccas.  The park is characterized by its 500 foot tall imposing golden rock spires that immerge from the depths of the Crooked River Gorge making for an exotic and dramatic landscape.  The fortress of rock is composed of welded tuff (compressed volcanic ash) that has been sculpted by wind and water over great lengths of time.  The true icon of the park and of this geological process is the famed Monkey's Face, a 450 foot rock pillar that hosts one of the most difficult climbing routes in the world.  Luckily, one doesn't have to be a world-class climber to experience the wonder of the park as there are extensive networks of trails open to hikers, horseback riders, and bicyclist.  If you're up for a brief but steep hike, take the Misery Ridge Trail to ascend to the park's summit and to get an up-close view of Monkey's Face.  If you're in the mood for something more casual, walk down to the Crooked River and follow the River Trail for as long as time allows.
The park does allow overnight camping, however it is limited to the Bivouac Campground area and does come with several restrictions.   See link for details.
Smith Rock Revisited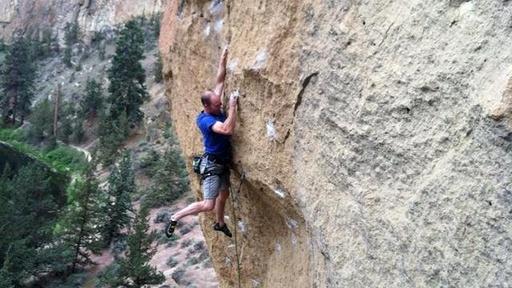 Maps